Gift Cards to Buy for Teenagers and College Kids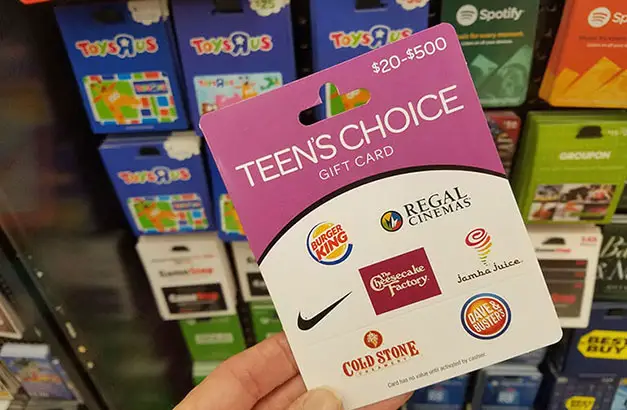 Buying a teenager or a college student a gift can be hard these days. You try to figure out what they want, but they don't give you much to go off of. Now that they are older they are starting out in the work force and have obligations even maybe even bills to pay. Instead of trying to figure it out we list some great gift card ideas you can buy for teenagers or college kids.
Gas Gift Card
Gas prices are high and continue to go up and with a car the need is always there to purchase gas. Gas card ideas: Sunoco Gas, QuickTrip, Circle-K
Grocery Gift Card
We all know the appetite of teenagers and college kids. Why not help them out with a gift card for groceries? This would surely be needed more than you know! Grocery card ideas: Publix Super Market, Fry's Food Stores, H-E-B Grocery Store
Office Supplies Gift Card
Though these days most things are electronic and online. But there always that chance your teenager or college kid needs office supplies to write that book report, fill out a job application on the spot or need more ink for the printer. In case getting a gift card at an office supply store would come in handy. Office Supply card ideas: Office Depot, Office Max, Staples, Best Buy
Car Gift Card
If they have a car and it needs some maintenance like an oil change, minor work like a tune up or you just need to buy a part for the car, then getting a Car gift card would be another great idea. Car maintenance card ideas: Jiffy Lube, Advance Auto Parts, AutoZone
Visa Gift Card
If you want to give them money but don't want to give them cash specifically, then get them a Visa gift card. It's just like cash but easier to keep track of the card and the balance since they allow you to track your balance online. Great for emergencies! Visa card ideas: Visa Vanilla, VISA
Movie Gift Card
Who doesn't like a night out on the town? And college kids, they love to party! Who wouldn't love to go to the movies and watch the latest Marvel or DC comic movie? Movie card idea: AMC Theatres, Landmark Theatres
These aren't life changing ideas that your kids will go wild for but trust me they will have a use for them. It's always a good thing to help out your teenage or college kids and getting them a gift card that they can use will go a long way in making their lives a little better. If you already purchase a gift card for you or for your kids, be sure to keep track of the balance. Find out how to check the current balance on your gift card.